Interested in becoming a College Transition Workshop Leader?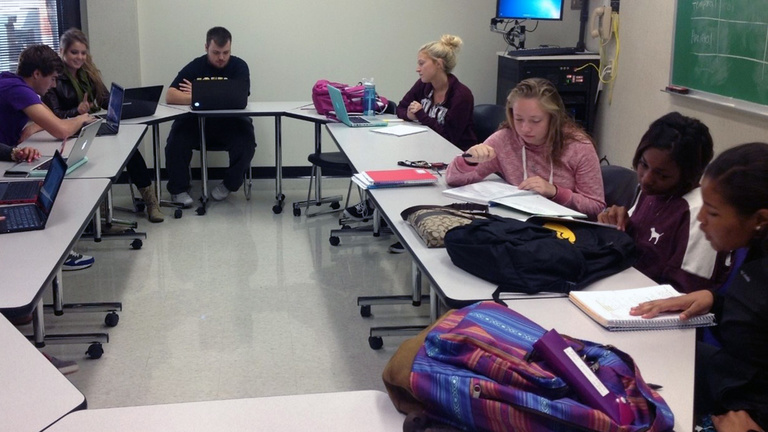 CT Workshop Leaders work with first-year students who are taking a combination of three courses: CSI:1100 The College Transition, a shared lecture course (listed below) and CSI:1150 The College Transition Workshop. College Transition Workshop Leaders lead students in CSI:1150 and model study skills learned in College Transition Seminar and how to apply them to their shared academic course.
Workshop Leaders are trained to facilitate two groups of 10 students each, using Supplemental Instruction techniques to help students function as a study group.  Workshops meet twice a week in the fall.
The College Transition Workshop Leader position is eligible for Honors Experiential Learning.
Fall 2023 CT shared academic courses
CHEM:1070 General Chemistry I
CHEM:1100 Principles of Chemistry I
MATH:1005 College Algebra (for leaders confident in math study skills)
PSY:1001 Elementary Psychology
CRIM:1410 Criminology
"I enjoy workshop because it gives me the opportunity to create relationships with some of the new faces on campus. It is inspiring to watch the personal and academic growth that happens in just a couple of months. Through workshop, I have had the ability to grow my communication skills and adapt to various learning styles, which has created a new perspective for me on my own academic journey."
How to Apply
Applications will be reviewed starting on Tuesday, March 22, with interviews scheduled March 29 – March 31.

Applications will be accepted until all positions are filled.
CT Workshop Leaders Will
Model and encourage collaborative study strategies.

Contribute to a friendly and productive learning environment.

Attend all required training sessions and scheduled meetings.

Attend all lectures for general education course and be familiar with readings.
Qualifications
Must be enrolled as an undergraduate student at the University of Iowa in Fall 2023

Minimum 3.5 cumulative GPA

Completed and earned a grade of an "A" in the course or area (math) from the University of Iowa

Completion of at least 30 sh by Fall 2023

Available to attend two mandatory training dates:

Sunday, April 30, 12:00 -3:00 p.m.

Wednesday, August 16, 10:00 a.m. - 4:30 p.m.

 
Compensation
$1,650 stipend for 10 hours/week for 15 weeks

Ten (10) hours a week = three (3) hours attending lecture; four (4) hours leading CT Workshop

Group Meetings; three (3) hours prep time and meetings.