Entering University of Iowa students 
You will meet your academic advisor at Orientation, during which you will choose and register for the courses that you'll take during your first semester at the University.
Current University of Iowa students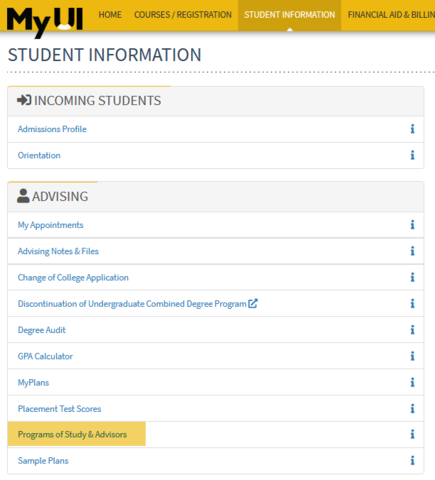 All students have at least one advisor. Students who have more than one program of study declared (majors, certificate, minors, and pre-professional) probably have more than one advisor. How do you determine who your advisor is, and how to reach them?
Sign in to MyUI and navigate to the HOME page.
Find the link to Programs of Study in the Student Information section.
The Programs of Study page will display your advisors for all of the programs you have declared currently.
The advisor's name and location will be on the right in the 'Advisor' column. If the location listed to the right of the advisor name is C210PC, you are advised in the Advising Center for that program of study.
If you have any difficulties determining where you are advised, all undergraduate students are welcome to contact the Advising Center for help at 319-353-5700.