Before adding courses, please consult with your academic advisor.
The deadline to add courses that meet the entire semester usually falls on the sixth day (Friday of the second week) of the semester. However, official deadlines for each semester are listed in the Academic Deadlines calendar. After this deadline, the best opportunity for students to add courses to their schedule is to search for off-cycle courses.
Adding Off-Cycle Courses
Courses that do not meet for the entire semester are called off-cycle courses. The deadlines to add these courses are different from those for semester-length courses. You can easily identify off-cycle courses in MyUI by the 'off-cycle' designation and the presence of course dates in MyUI.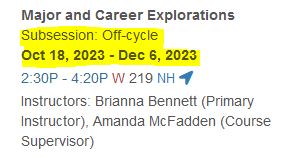 You can add off-cycle courses on MyUI until the course begins. If the course has already started, you should check the Course Deadlines calendar to find the deadline to add the course.