Finding Your Advisor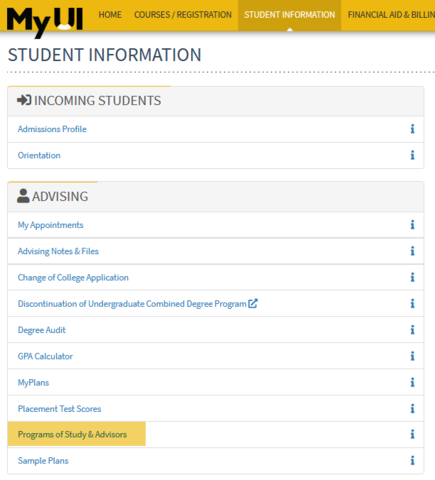 Finding Your Advisor
All students have at least one advisor. Students who have more than one program of study declared (majors, certificate, minors, and pre-professional) probably have more than one advisor. How do you determine who your advisor is, and how to reach them?
Sign in to MyUI and navigate to the HOME page.
Find the link to Programs of Study in the Student Information section.
The Programs of Study page will display your advisors for all of the programs you have declared currently.
The advisor's name and location will be on the right in the 'Advisor' column. If the location listed to the right of the advisor name is C210PC, you are advised in the Advising Center for that program of study.
If you have any difficulties determining where you are advised, all undergraduate students are welcome to contact the Advising Center for help at 319-353-5700.
Your Advising Network
Advisors at the Academic Advising Center provide academic advising, but they also know a lot about the college experience, especially for first- and second-year students. AAC advisors are also well-connected across campus and able to help students find the resources they need.
During their time at IOWA, students often draw on a network of advising professionals when they have questions, want to explore opportunities, or face challenges. In addition to the Academic Advising Center, students have access to several different types of advising.
Academic - First-Year students in the College of Liberal Arts and Sciences are advised in the Academic Advising Center. Students in other colleges are assigned a professional or faculty advisor. Additionally, students may work with or consult other UI faculty or staff to explore their interests and to get the most out of their college academic experience.
Career - Most majors can lead to many different career paths, so students often seek out career as well as academic advising. The Pomerantz Career has a staff of career coaches to help student explore aligning majors with careers. Students may also discuss career options with faculty or other staff on campus.
Financial - Paying for college is not always straightforward. Speaking with a financial aid advisor in the Office of Student Financial Aid can help students sort out options for loans, scholarships, temporary financial assistance, and more. Additionally, they offer financial literacy services to help student make decisions that are in their best interests.
IOWA Life – Students who participate in university life outside of the classroom are more satisfied with their education and get more out of it. Most students start slowly and try different things. Some students have no idea where to start. Meeting with a Student Engagement Advisor helps students discover opportunities and groups meaningful to them.
Extended Network – UI advisors are people who help students navigate particular aspects of their education. While the categories listed above are the most common types of advising, there are others, such as study abroad and student athlete advising. Sometimes categories intersect, and an advisor in one area may know things about others. Advisors are there to help, so don't hesitate to find out who your advisors are and to meet with them.